Internal Happenings @ West Coast
This entry was posted on 11/09/2011 by westcoast.
2011 has been our busiest year ever.  Earlier this week we had over 70 boats in our warehouse.  We are starting the process of looking for a larger building.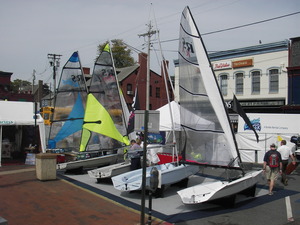 The team here is installing new order processing software, and our website will get a major update after the holidays.
We've traveled to the Annapolis Boat Show
We've updated our history of sponsored sailors and were shocked at how many events we've been a part of over the years.
Fun Fact:  Everyone on our staff (except from our bookkeeper Ashley) - from our president to our graphics team, was involved in College Sailing.  Every single person!  No wonder we love youth sailing so much, we've all grown up with it.